GRACE ORMONDE WEDDING STYLE
Moon landing - Bride in space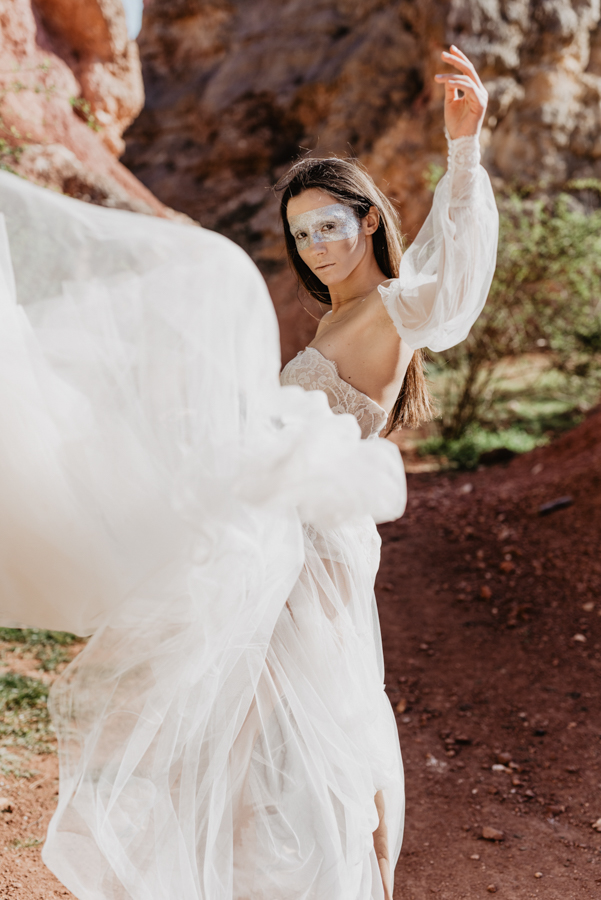 Have you ever seen a bride in space? We have even dreamed that we can meet love on another planet. Thus was born the idea of creating a project that leaves ample room for imagination but that does not leave emotions, love behind.
Our photo shoot published in the Grace Ormonde Wedding Style magazine, in collaboration with Frammenti Wedding, has the moon as its protagonist.
Exploration
Yesterday I was dancing on the railing of a desire. Now I orbit uncertainly in the circle of a promise. How much loneliness is spent looking for a sign of your presence?

It came without a fuss and finally I see you even in the dark. You nest here, in my milky rib and in this space so vast and secret I beg you to raid me.
Wait
In you I have branched my crown since our first meeting. Your shadow dyes a red earth, covers every word. This is the place where my silence stripped, to better express the geography of languages and bodies.
Moon landing
Your moon buried itself in my belly
as if you were a luminous lake.
The world slipped by very slowly.
Then it was our absolute morning.
Conquest
Your way of looking at me
is the measure of our conjunction:
a closeness that only you know
a certainty that only dwells in me.
Paola de Benedictis